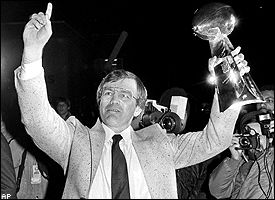 How would you like to be able to drive to the Super Bowl? NFL Commissioner Roger Goodell seemed to indicate Wednesday, during a visit to Redskins Park, that Washington's FedEx Field could be a host of an upcoming Super Bowl.
But it could be a while. Goodell says the NFL will wait to see how the Super Bowl goes in New York City first but he expects the 2014 Super Bowl in New York (New Jersey actually) to be a success. Both stadiums are open air and are in cities that are cold that time of year.
Unlike most coaches (apparently) in the NFL, Goodell says he likes the idea of playing football in the elements. I do too. A great team should be able to play in all sorts of weather, not just a climate-controlled dome. Plus, it makes for a more interesting game.
"The fans here are terrific, and I have no doubt that it would be successful," Goodell said. "We took a big step this year in awarding the Super Bowl to New York."
Redskins owner Dan Synder, evidently a budding meteorologist, is pushing to host the Super Bowl and says that the weather will be fine in New York for the Super Bowl. "I think people will be surprised by the weather," he said. "It's not going to be a problem."
It wouldn't bother me if it snowed but I know they like to have a fun experience for the fans the days leading up to the Super Bowl. But frankly, FedEx Field, which is actually in Landover, Md., doesn't have a lot around it. Baltimore would actually be better as far as people being to walk from their hotels and walk to eat, etc.
But much of the push is related to two things - the fact that Washington is our nation's capital and that Washington was the other city most affected by 9/11.
Regardless of that, I'd rather see all football games in open-air stadiums. Talk about old school.
(As a reminder, the Triangle area of North Carolina, as proven by a DirecTV study, has the biggest contingent of Redskins fans outside the D.C. area. So, you'll see me chat about the Redskins on occasion even though they aren't physically located in the Triangle. By the way, the photo above is former Redskins' coach and NC native Joe Gibbs hoisting the Super Bowl XVII trophy, one of three he earned with the Skins.)